Planning to Tow a Family Camper or Work Trailer with a Ford SUV or Truck? This Guide Will Make it Easier to Choose the Perfect Vehicle
SUVs and pickup trucks are the two hottest styles of vehicles on the roads here in Colorado, and across the country. At Larry H. Miller Ford Lakewood, we know the reason why many of our customers gravitate towards these powerful and useful vehicles is because they have something they need to tow along, whether it be a boat, an RV, or a trailer.
If you're searching for a new Ford to help out with your family's weekend adventures, let this guide shine light on what you can expect from some of our most popular models.

The Ford F-Series Pickup Trucks - Ford F-150, Ford F-250, Ford F-350
The Ford F-Series family of pickups is legendary. A top choice for four decades, these trucks come in three different sizes, each one powerful and capable. If you're considering a new Ford pickup, and you're wondering what you can tow with each one, we can help.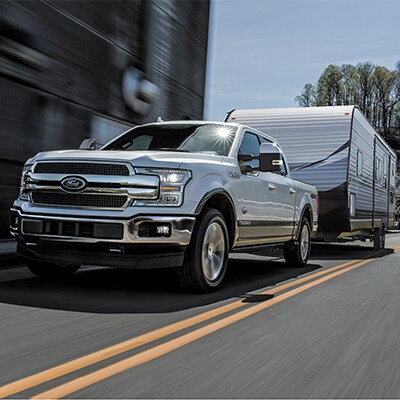 The Ford F-150
The newest models of the beloved Ford F-150 manage a maximum of 13,200 pounds, depending on how you have it configured. It also has a long list of available features you can get with it to make trailering and towing easier. These include trailer sway control, a trailer brake controller, and a towing / hauling mode to boost your power delivery and improve performance while managing heavy loads.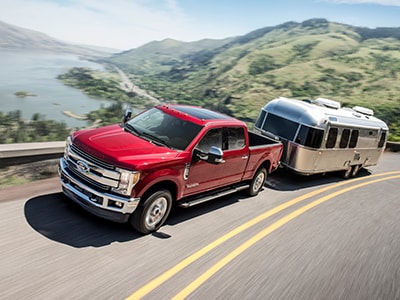 The Ford F-250 and Ford F-350 Pickup Trucks
These are the two Super Duty trucks in the lineup, and they more than live up to the name. These powerful workhorses can tow a maximum of 21,000 pounds with a conventional setup, or up to 27,500 pounds with a fifth-wheel trailer, or up to 35,000 pounds with a gooseneck setup. All of these are dependent on the trim level, power combination, and configuration you go for.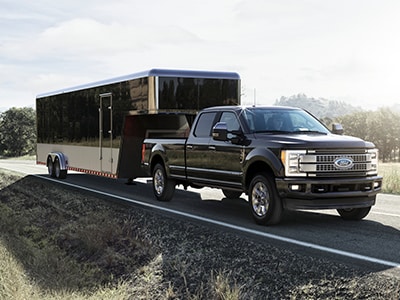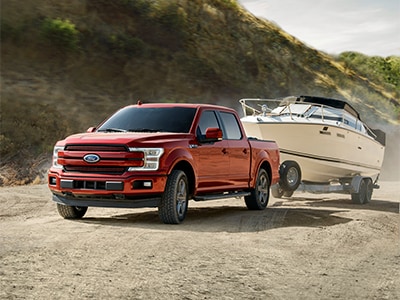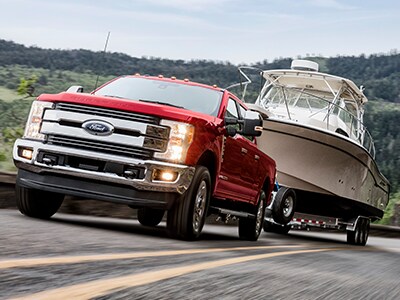 Ford SUVs
If you have a family and you need the spacious interior of an SUV rather than a truck, but you still need powerful towing capabilities, Ford has a lineup of SUV models that's perfect for you, including the three-row, truck-based Ford Expedition, the family-friendly, three-row Ford Explorer, and the stylish and compact Ford Escape.
The Ford Expedition
A massive SUV with the personality of a truck, but the interior and features of a high-end SUV, the Expedition can tow a trailer or RV up to 9,200 pounds.
The Ford Explorer
With the easier-to-drive nature of a car, but the utility and space of a larger SUV, the new Explorer models we carry can tow up to 5,000 pounds.
The Ford Escape
A five-passenger, two-row SUV that's perfect for smaller families who only require a pop-up camper or small boat, the Escape has a maximum towing capacity of 3,500 pounds.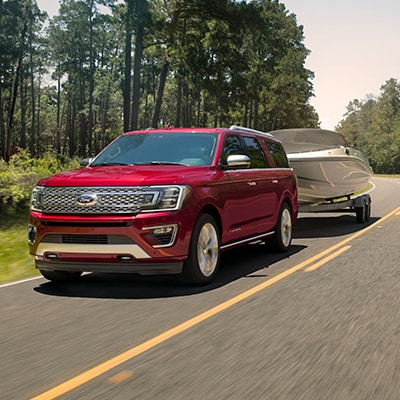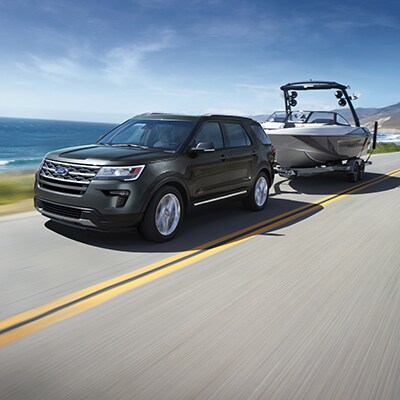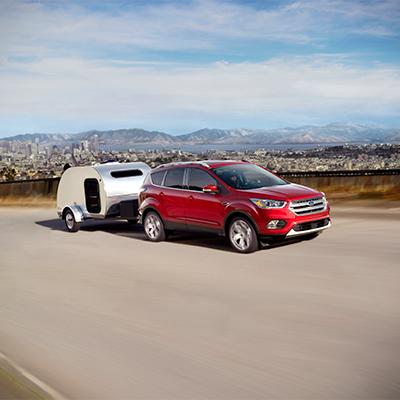 Find Your Perfect, Capable Ford SUV or Truck in Lakewood
To learn more about each of the Ford models listed here, or any of our other great Ford trucks and SUVs, stop by and visit us in person. Our team can tell you more about the details and abilities about all of our vehicles and answer any questions you have about trailering or hauling.